EPIMMUN®
Advanced Skin Vaccination by laser-assisted Epidermal Immunization
EPIMMUN® is the process for laser-assisted epidermal immunization by using the P.L.E.A.S.E.® device to deliver the immunogen. The P.L.E.A.S.E.® technology allows to adjust the pore density and depth settings as required to control the dosage and enable targeting of individual skin layers. The microporation process creates an inflammatory stimulus and may thereby boost the immune response.
WHY EPIMMUN®?
Facilitates painless delivery of immunogens to targeted skin layers
Demonstrates induction of immune response
Promote an adjuvant effect by inducing a proinflammatory cytokine/chemokine milieu in the skin
Boasts an optimal safety profile
Read more about additional arguments with EPIMMUN® turbo and EPIMMUN® patch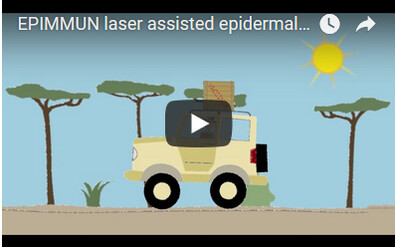 For privacy reasons, we do not offer the playback of the video directly on our site. By clicking the button you will be redirected to Youtube. Please note that this will transfer user data to Youtube or Google. Read more about our privacy policy.
Infectious diseases
In a study on BALB/c mice with commercially available conjugate vaccines against Neisseria meningitides (Menveo, GSK) and Haemophilus influenzae Type B (ActHIB_, Sanofi Pasteur). induced high antibody titers after TCI (= with PLEASE), which were comparable to i.m. injection.
Both graphics below: Scheiblhofer et al. Skin vaccination via fractional infrared laser ablation - Optimization of laser-parameters and adjuvantation. Vaccine, Jan 2017.
Haemophilus influenzae Type B (ActHIB_, Sanofi Pasteur)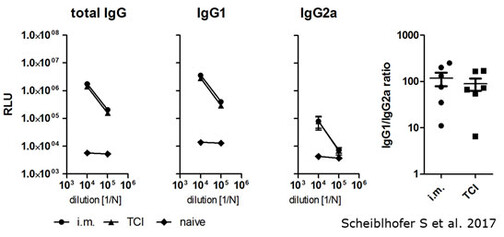 Neisseria meningitides (Menveo, GSK)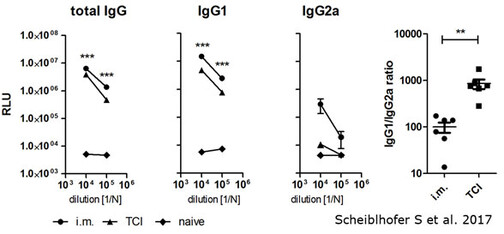 Allergy
A study for epicutaneous immunotherapy to IgE-mediated allergy on BALB/c mice shows effectiveness of EPIMMUN® and to reduce the number of immunotherapy from eight times to 3 times and a duration from three weeks to two weeks, yet with significantly better outcome. The EPIMMUN® enhances Treg cells against administered allergens and suppresses IgE response, whereas provoking little local reaction at the site of patch application and greatly minimizing the risk of anaphylaxis when compared to SCIT. The EPIMMUN® shows great promise to treat IgE-mediated type-1 allergy.
Kumar et al., Laser-facilitated epicutaneous immunotherapy to IgE-mediated allergy, Journal of Controlled Release, Aug. 206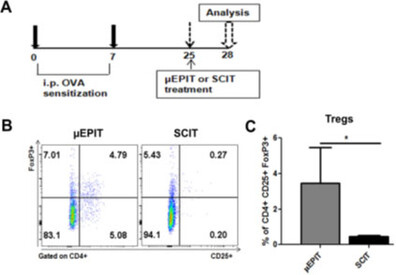 Cancer
In a study on C57BL/6 mice6, the immunogenicity of a peptide cancer vaccine for liver cancer delivered in the epidermis via the P.L.E.A.S.E.® laser device was evaluated in a side-by-side comparison with standard subcutaneous injections of vaccine with or without metronomic chemotherapy. Vaccination with laser assisted immunogen delivery was shown to elicit a significantly higher specific T cell response, as measured by CD4+ as well as CD8+ IFN-γ intracellular staining (see data on the right).
6Buonaguro et al. Laser-assisted epidermal immunogen delivery for optimal targeting of Langerhans cells in cancer vaccination. Presented at the 13th CIMT Annual Meeting, May 2015, Mainz