P.L.E.A.S.E.® (
P

recise

L

asers

E

piderm

a

l

S

yst

e

m)
The P.L.E.A.S.E.® device is the new robust technology which enables the delivery of bio-active agents of large molecular size to dermal layers. The P.L.E.A.S.E.® device creates micro-pores of the desired size and depth almost painlessly. The creation of these channel-like pores happens without any significant trauma allowing the bio-active agent to permeate lateral and downwards into the tissue.
2-step procedure

STEP 1
The state of the art P.L.E.A.S.E.® laser device creates precise micropores of about 1/10 mm depth into the skin.
STEP 2
Bio-active substances are applied by a Gel or cream. They will be delivered by passive diffusion into the skin through these accurately micropores. The controlled inflammatory response to microporation enables substances to deeply penetrate into the tissue and enhances the absorption of the active ingredients.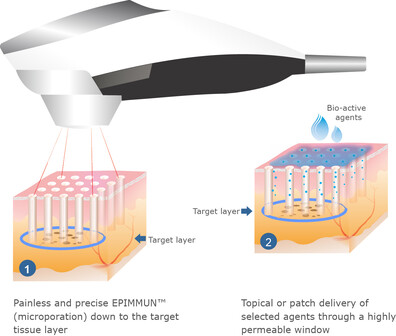 OPTIMAL SAFETY PROFILE
Full re-epitalization of pores within 24 - 48 hours
No infections were observed in clinical trials
Painless delivery


In a study carried out in Copenhagen to assess the efficacy and safety of ablative fractional laser-assisted daylight photodynamic therapy (AFL-dPDT) for treatment of actinic keratosis in organ transplant recipients, pain was assessed using a numerical rating scale (whereby 0 = no pain and 10 = worst pain imaginable) and long-term skin changes were evaluated.
RESULTS
Median pain score of 0
No pigmentary or textural changes at 3 months follow-up
Patients reported minimal pain during treatment with AFL-dPDT ... with no long-term pigmentary changes. At the current laser settings, we find that AFL-dPDT is a safe and efficacious treatment that may be used for larger skin areas.
Togsverd-Bo et al. Combinaton of ablative fractional laser and daylight mediated photodynamic therapy for actinic keratosis in organ transplant recipients - a randomized controlled trial. Br J Dermatol. 2015 Feb;172(2): 467-74
Link to study
OPTIMAL THERMAL PROFILE
Less carbonization and thus minimal coagulation may not only result in shorter healing times and a significantly lower risk of hypopigmentation, they also create a highly-effective passage for drug delivery. The char-free micropores enable a better uptake of substances, even large molecular size drugs.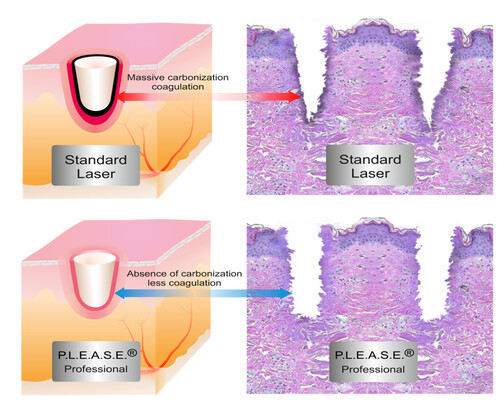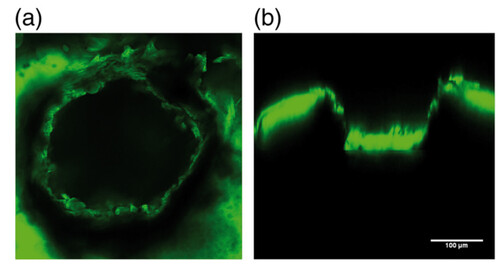 Confocal images showing the distribution of FITC fluorescence in the (left) XY- and (right) XZ-planes following P.L.E.A.S.E® poration of full thickness porcine skin.
Bachav et al. Effect of controlled laser microporation on drug transport kinetics into and across the skin; J Control Release. 2010 Aug 17;146(1):31-6
THE ADVANTAGE OF ADJUSTABILITY
Both pore density and pore depth may play an important role in immunogen delivery. The ability to adjust both parameters via the user-friendly touchscreen allows for controlled delivery of the desired dosage to targeted skin layers.
ADJUSTABLE PORE DENSITY FOR EFFICIENT DELIVERY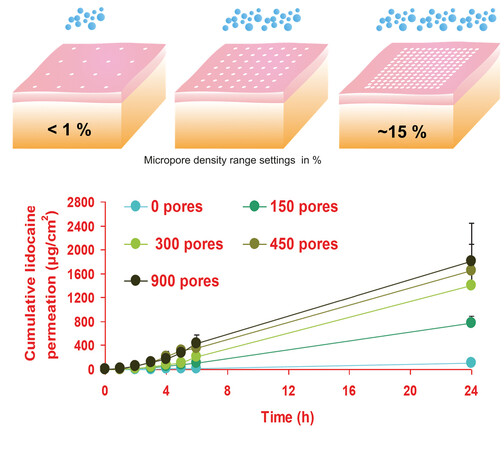 ADJUSTABLE PORE DEPTH FOR TARGETING SKIN LAYERS


Various laser parameters can be adjusted to regulate the pore depth
in a micrometre range.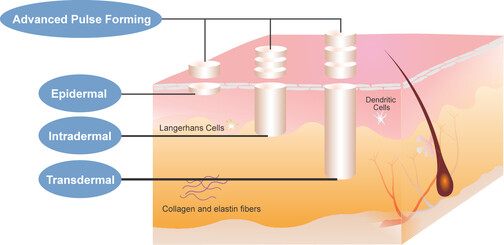 ©Graphic cumulative lidocaine/time: Bachav et al.
A higher number and therefore higher density of micropores will increase the efficiency of delivery, which can be seen in the cumulative permeation of the drug into the skin.